Top
Performance in Stone Industry
Years
Exporting Experience
Since
Stone Family Business
Magic Stone, started from a family stone carving business since 1995, In 2013 we set our own import & export company and create our own brand "magic stone sculpture". During the first 5 years, we had great success in some garden décor items, such as granite water fountains, birdbaths, pebble & gravel and stone owls.
Especial for different stone owls, we shipped around 10-20 containers every year to all over the world. If there was big data in that period, we must be NO.1 for stone owls, that's one of the reasons that Magic Stone use one owl figure – our lucky bird as our logo. We believe it can bring us good luck and fortune.
Besides, We own 2 factories which locates in Quanzhou City, at the same time, we associate with another 5 factories from South to North of China, our abundant stone factory resource, advanced equipment and skilled carving technic, allow us provide a wide range of products for our customers, with very competitive price and stable quality. We are 8+ years verified gold supplier at Alibaba. Our goods and factories for garden décor items have been verified by world-leading inspection company (TÜV Rheinland), and our associate factory for semi-precious stone and Himalayan salt products, has pass the BSCI audit which is Business Social Compliance Initiative. You may not able to find more than 3 factories, who can pass this Audit in our stone crafts industry! Our sales performance keeps increasing even under the affect by last year. Our trade performance shows on alibaba have been upgrade from top 10 to top 5 suppliers since last year 2020.
Our three products lines involve various gifts & crafts, beauty & health appliance, and garden décor items. 1. For Gifts & Crafts, we have Himalayan salt lamps, Stone Animal, Candle Holders, Marble Coaster, 7 chakra healing Stones, Pocket worry stone, Pebble Souvenir, etc etc. 2. For Beauty & Health Appliance, we have Hot Massage Stone Set, Jade Roller & Guasha Set, Himalayan Salt (both for Ediable + hot bath), 3. For Garden Décor items, we have granite and marble water fountains, Stone Table & bench, bathtub and sink, Solar light, Pebble & Gravel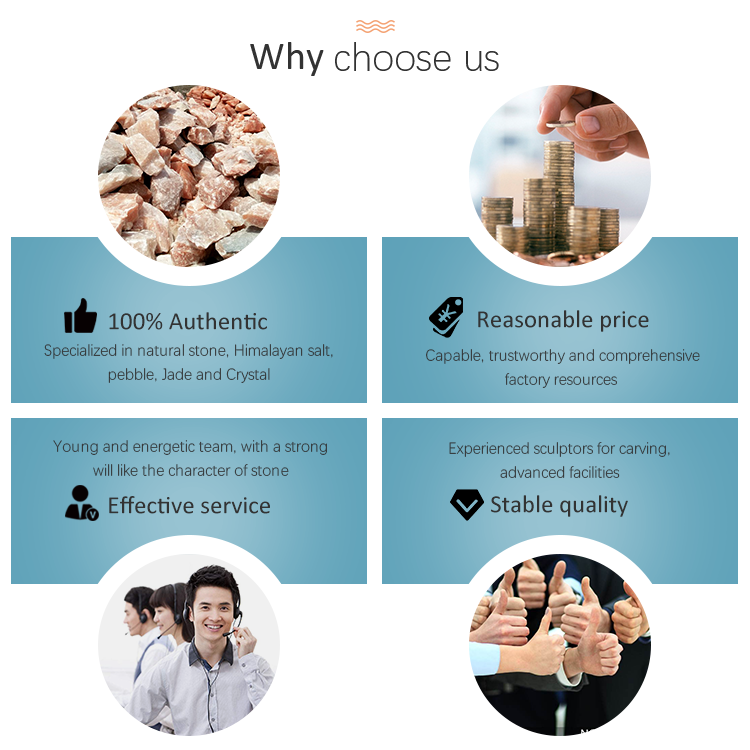 Why Magic Stone and not another supplier?

>>> 100% Authentic
Specialized in natural stone, Himalayan salt, pebble, Jade and Crystal
>>> Reasonable price
Capable, trustworthy and comprehensive factory resources
>>> Effective service
Young and energetic team, with a strong will like the character of stone
>>> Stable Quality
Experienced sculptors for carving, advanced facilities
>>> Low MOQ and volume discount for bulk orders
>>> Worldwide shipping service available
>>> Responsible after-sale service