A Story About Our Company and Mr.Michael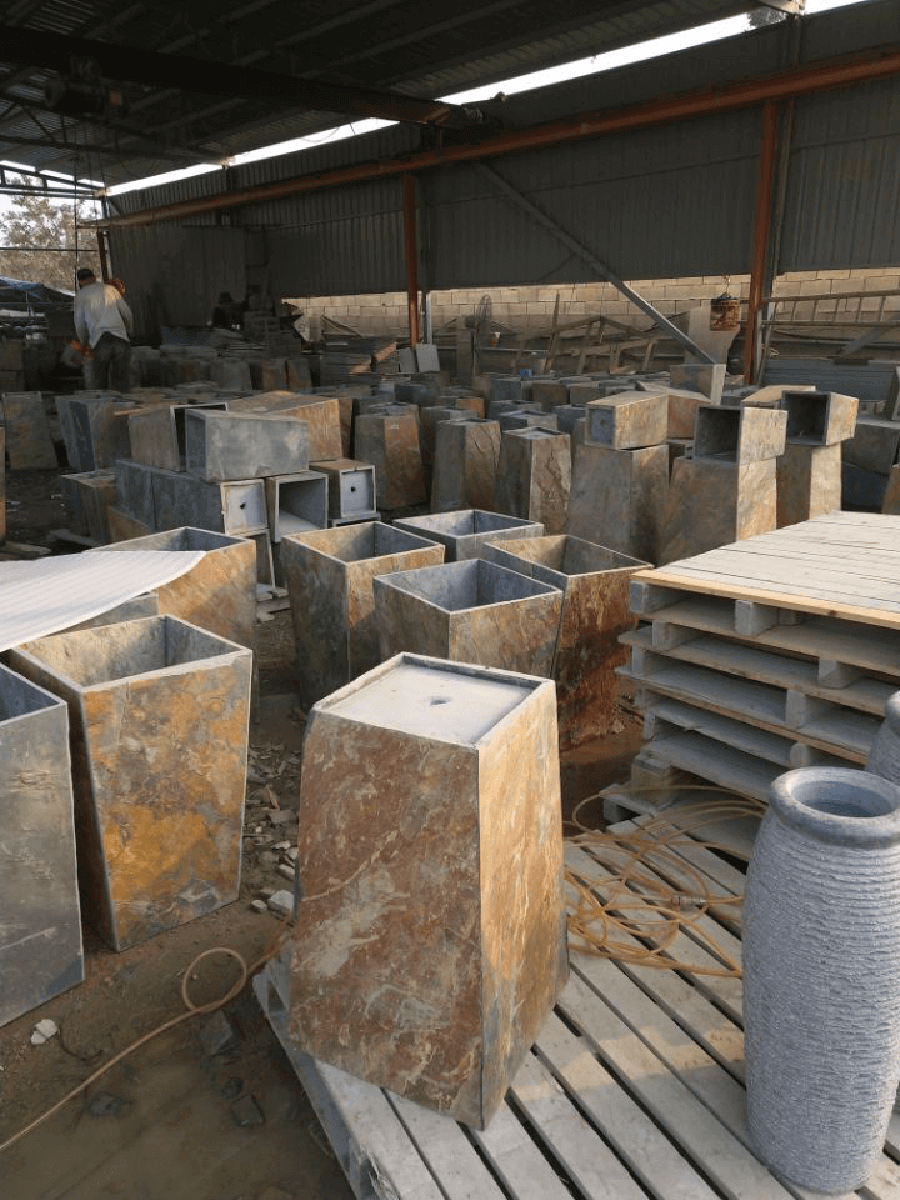 Was contacted by Michael mid-winter which is typically a time of year when business is a little slower than normal.  That afforded extra time and effort to provide a custom Stone Flower Pot that and a delivery service that was unusual to say the least.
The stone that Michael wanted was to be 42" x 15" x 17" tall With an Opening approximately 32-34" x 8-9" x 9-10" deep.  He wanted an Stone Flower Pot that was weathered gray and brown, and the stone had to fit snugly around a curved wall that was already built.  Finding an stone Flower Pot the exact size color and dimensions proved to be something we could not provide at the time, as none precisely like that was in our inventory, nor any of our business associates yards either.
I contacted our factory to see if he had stone flower pot that was the right size and shape. I provided the dimensions and asked if he could find stone flower pot in his inventory that he could cut a new opening into.  A few days later, he sent me pictures of a stone that we both thought was suitable, and I forwarded the photos to Michael for approval.  He saw the stone and said it was perfect. I set about putting the cost together for the stone, cutting the new opening, and delivering to Michael home.
Within a day or two we had the details figured out and I provided Michael with the estimated cost.  Fortunately in our discussion, I found out that the delivery would be to a very difficult location, requiring hand delivery down a long set of winding stairs. I mentioned the delivery situation to our factory, and he said that he was actually going to be making deliveries of his own in the same general area, and that he could make the delivery.
I told our factory that before he committed to the delivery, we should see some pictures of where it was going so that we would know what we were getting into. The stone weighed the better part of 600 lbs, and we did not want to be unprepared for the undertaking. I asked Michael for pictures of the delivery site including the stairway so that we could gauge how difficult the delivery would be.
Michael sent the pictures, which I showed to our factory for evaluation. He is a strong fellow with a can do attitude. He agreed to make the delivery with a small additional fee for the degree of difficulty.
We put the Stone Flower Pot into production, and our factory delivered it a few weeks later much to Michael satisfaction.
Let us know if you may be looking for a custom Flower Pot or Water Fountain and we will be happy to make it happen for you. I hope your delivery site is easy, but if it is a challenging location like Michael, we can usually put the overcome the obstacles to make you a satisfied customer.
---
Post time: Feb-27-2019